Sustainability Commitments
SF State is committed to building an inclusive community to reduce our impact on the planet and ensure the health of future generations. This page contains information on SF State's sustainability commitments and key sustainability guidance documents.
Sustainability Commitments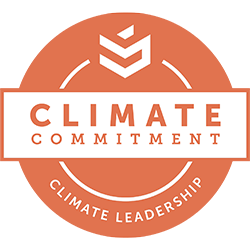 Presidents' Climate Leadership Commitments
SF State is committed to reducing its greenhouse gas emissions 40% below 1990 levels by 2030. SF State is a signatory of the Presidents' Climate Leadership Commitments,  a flagship program of the nonprofit Second Nature. The University signed the Carbon Commitment in 2007 (originally known as the ACUPCC). It later added resilience to its carbon goals by signing the Climate Commitment in 2019.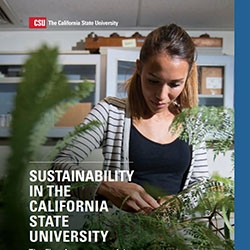 California State University Sustainability Policy
The 2014 California State University Sustainability Policy set forth 29 goals that seek to incorporate sustainability principles into all areas of the university.​​ Annual assessments are conducted to ensure compliance with the policy. SF State's sustainability team is active in updating this policy. 
Sustainability Guidelines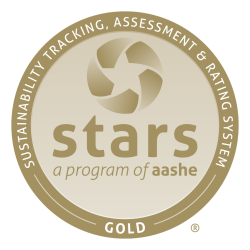 AASHE STARS Report
SF State participates in the Association for the Advancement of Sustainability in Higher Education's (AASHE) Sustainability, Tracking, Assessment & Rating System (STARS), which is used by more than 900 colleges and universities around the world to benchmark their sustainability efforts. In 2023, SF State earned a Gold rating for the first time and was rated the 3rd highest score in the California State University system.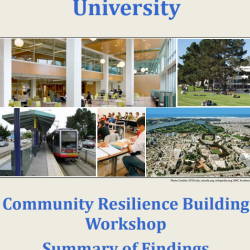 Climate Action & Resiliency Report
In April 2022, SFSU partnered with Second Nature and The Nature Conservancy on collaboratively launching a community-based process to access extreme weather and climate change impacts, and to generate and prioritize solutions that improve resiliency, sustainability and equity for our community.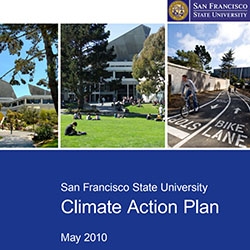 Climate Action Plan
SF State's 2010 Climate Action Plan set forth sustainability goals for the campus. It requires regular greenhouse gas inventory reporting and the formation of a campus-wide sustainability committee. SF State has committed to reducing greenhouse gas emissions 40% below 1990 levels by 2030.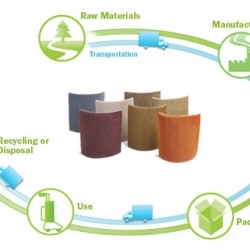 Sustainable Development Framework
The Sustainable Development Framework delineates SF State's sustainability mandates and expectations for all: planning, design, major renovation and construction projects undertaken by and for SF State. It sets specific performance requirements – from energy and water efficiency and reuse, to renewable energy production.
Landscape Framework + Forest Management Plan
The Landscape Framework provides guidance and a plant palette to ensure SF State's landscaping is water efficient, ecologically responsible, and beautiful.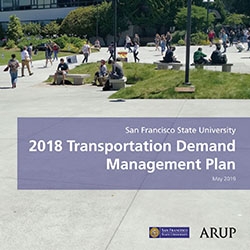 Transportation Demand Management Plan
Our Transportation Demand Management plan provides actions that will improve the convenience and cost of getting to campus while continuing to shift SF State's commuters towards sustainable transportation.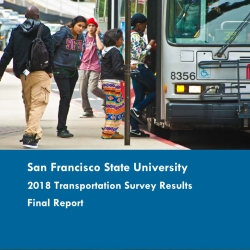 Transportation Survey - 2018
SF State conducts a campus transportation survey every three years to assess the impact of the university on local traffic patterns. The survey involves a count of vehicles during peak hours and a survey that determines what modes people use to commute to campus.